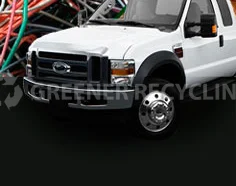 Greener Recycling company offers scrap pick-up services of various kinds of metals for cash. We accept copper, aluminum, brass, bronze, steel as well as wires, radiators, transformers, sealed units and much more. Call us now at 866-567-2727to book your appointment or request your estimate online.
Scrap removal at your door: our team will provide fast and efficient pick-up and purchase
We bring a recycling yard right to your door with our modern, state-of-the-art vehicles using our Ford F-550's twelve-foot stake bed trucks that allow us to haul a significant amount of metal scrap. We make sure that when you book a removal, you also receive complete office support as our trucks are fully equipped with certified scales, metal analyzers, printers and laptops. We are able to weigh your metal scrap, check current prices and print out your invoice right on the spot.
Residential Removal
Do you personally have any bulk amount of copper, brass, bronze or other type of non-ferrous metals? Call us or fill out the form to get your cash immediately. Be aware that this service is for large removals and recycling use only*.
*
Removal restrictions.
Our minimum weight requirement for
non-magnetic
metals scrap pickup is
350 pounds
. Please call us to find out our ferrous metals and high temparture alloys pick-up conditions.
We will be more than happy to discuss your material with you and quote the price over the phone. The quote varies based on the quantity and condition of your scrap material.